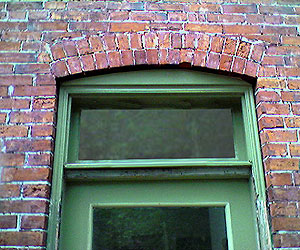 mosnart (pronounced: transom from the other side)

Mosnart is an ongoing art project by JB Daniel. Visiting artists are encouraged to participate in the constraints and opportunities the venue offers by constructing installations of exceptional art in a transom above the front door of an 1880's Pullman's worker flat.

Occasionally the art spills out into the community in various ways allowing for interesting interactions between the artists, art, architecture and community. Ever expanding venues include the Hotel Florence, Pullman factory site, public and private spaces, and more.

We thank our past, present and future visiting artists, the Pullman community, and the many individuals and organizations that help make this possible. more...